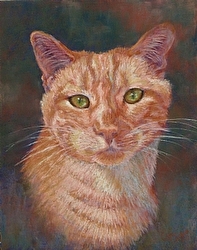 Completed pastel painting of "Lil' Red" - 14x11
Red strolled into my studio and approved his portrait! Okay, cats don't talk, but I imagined his approval when he gave me one of his sweet meows.

As I was finishing this painting, I kept reminding myself of Red's personality - gentle, compliant, a bit dim, sweet - and trying to figure out how to convey those characteristics. The edges were softened as much as I was able, but both my husband and I think he looks too intelligent in the painting!

Self-critique: The body was taken too far down to the bottom edge, the red is a bit too red, the body is too long for a vignette portrait, and there are too many layers of pastel on the body. I think the contrast with the background , though I like the background, is too strong for Red's personality. It is Red and I like his eyes. The jury is still out on whether I like the Ampersand colored board.

I have learned a lot painting Lil' Red and now the other cat in the house is next! Looking forward to tackling the "professor" cat. What are your reactions to the end result? To the process? Love to know your thoughts, so please comment.

Thank you for following the journey.
Comment on or Share this Article →
---
---
---
---
---
---
---
---
---
---
---