---
---
---
---
---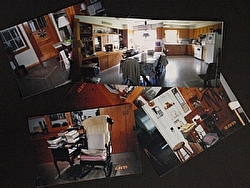 Reference Photos
Where does the commission process begin and how?

When I begin the Memory Portrait creative process, it is important to ascertain the memory that the individual, or in this case, the family wants to preserve. Every Memory Portrait is unique with unique players, which is one of the many reasons why I enjoy painting them! Using my school psychology experience, I develop a list of interview questions to learn what the family wants and what stirs them emotionally.

The painting I will be creating for the Egli family is a surprise, which always throws in some additional excitement to the process.
! The wife of the to-be-surprised husband, gave me some background about what she thought her husband would like; she initially told me that she wanted a painting of the home in which he grew up. This introductory meeting allowed me to develop a number of questions to ask about the old family home. He has four siblings that I wanted to interview.

Here is a sample of questions:
~ What are the salient features of the house?
~ Describe the surroundings.
~ Close your eyes and tell me the colors you see first.
~ What is his favorite season?
~ Where is his favorite place in the house?
~ Which adjectives would you use to describe this room?
~ Close your eyes and tell me the music you hear.
~ What might be his favorite memory of this room?
...and there were several more.

The interviewing process is quite enjoyable for a number of reasons. First of all, it fun to get to know the family and it permits me to begin to feel the emotions that I will try to convey in their painting. The process also allows for some brainstorming and I often get some ideas that have a little twist. For example, I learned that he was quite the athlete during high school, so I wanted to know his sports. When I asked where in the kitchen he might have put his glove or football when he came home, I was told that that was not permitted! However, we decided that I could go ahead and discreetly include a baseball bat and football in the painting. I found the perfect place for them.

Once we determined that it was the kitchen, and not the outside of the house, that was going to be the subject of this painting, I asked for specific photographs. If the home had been geographically closer, I would have gone there myself. Over a couple of months, several photos were collected and you can see a few in these photos. I also taped two together so I could see the kitchen in one photograph. These will be my reference photographs in addition to the interview data.

Creating a Memory Portrait for a family carries with it a deep responsibility, and I am always deeply honored to have the opportunity.

Once I analyze everything, my next step is a couple of sketches. Join me for the next post. What do you think it might look like?

...to be continued.
Comment on or Share this Article →
---