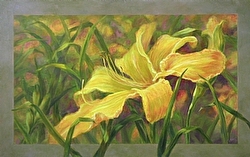 "A Glorious Day" - oil on board
My two-person show at the University of Minnesota Landscape Arboretum is only a month away! This exhibition has been in the "works" for over two years and now it is upon me. I have a few more paintings to complete to reach my goal of 25 new paintings. It has been a massive undertaking. Now is also the time for sending out press releases, submitting to on-line calendars, preparing postcards for mailing, finishing up on framing, etc. It is a push-pull feeling - going from the anxiety of not having everything done to questioning if I will complete all tasks - to wishing for the opening reception to begin!

"A Glorious Day" celebrates the day lilly flower, of which there are multiple varieties in the Arboretum gardens.
Comment on or Share this Article →
---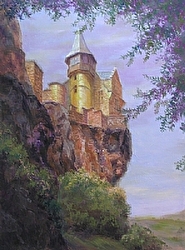 "Monfort Castle on the Edge" - 16x12 oil
Here is the completed painting. Though fairly realistic, I hope it still holds a mystical feeling, and that you can enjoy imagining standing there looking up at this ancient architecture. It makes me want to go back to visit France.
Comment on or Share this Article →
---