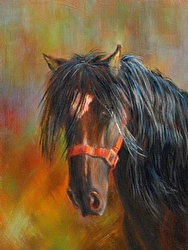 "Curly, a Paso Fino" - 14x11 oil
It's close to the finishing line! Before I could work on Curly, I had to finish the background. Why? Because I needed to be able to paint his mane and forelock hair over the background and it is no fun painting around tiny hairs. If I had to do that, then the hair paint strokes would loose the gestural feeling. The upper background area was softened with some grey-blue colors to help it go back behind Curly, and then I just softened some of the areas in the lower section.

After studying some horse painting books, I then finished Curly's eye. Dark blues and blacks were added in various places to make him look more "black." I noticed that his ear did not seem to have the correct shape, so I tweeked that a little. Then I had the fun and terror of painting his hair. Why terror? That may seem a bit extreme, but in many of the strokes, I only have one chance to get is correct and I wanted to convey some sense of movement and for the strokes to look gestural versus painstakening painted. It was also a bit disconcerting to paint over his eye because I want his eye to show through, yet I know that his hair often covers his eyes, so I had to be delicate and quick with the brush.

Now it is time for Suzie and Rick's approvals and feedback for the final touches. For me, this is always both exciting and nerve wracking. It is a delightful honor to be painting Curly, who means a great deal to Suzie. Memory Portraits are a joy to create. It will most likely be best for them to see the portrait in person, because I digital image does not capture all of the layers nor are the colors correct. Our monitors also have different color tones. They can give me feedback on details, whether there is too much red showing through, if Curly needs this or that in order for him to 'read' as they envision him. I so look forward to getting together with them.

...to be continued.

Comment on or Share this Article →
---
---
---
---
---
---
---